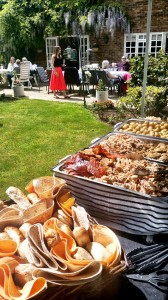 The age-old method of hog roast cooking is as embedded in history as the city of Durham itself. This is what first inspired us to start our hog roast company almost 3 decades ago, as we wanted to provide a catering service that was befitting to our surroundings but also put our own stamp on this classic culinary tradition. We have achieved this with our modern menus and flexible style of service that appeals to everyone, not just pork fans, and our increasingly varied clientele are a testament to the versatility of the catering service the Hog Roast Durham team offers.
Our Traditional Cooking Methods
We believe there is no better way to cook any meat than slowly spit roasting it over the course of several hours until it is so tender that is falls off the bone. This isn't just true of pork; if required we can also provide a selection of alternative meats, all prepared using the same superb cooking method, with equally delicious results. Of course, the cooking method alone cannot get all the credit for the spectacular meat we provide- we only select the very best ethically-reared meat from local suppliers, and our highly experienced chefs invest just the right amount of time and care in the preparation to do our superior quality meat justice and let its natural flavour shine through.
Our Modern Approach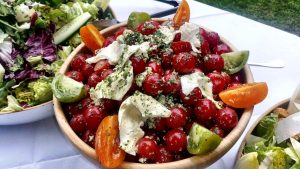 Here at Hog Roast Durham, we have found the winning formula with our classic cooking methods, innovative menus and flexible service style. As much as we love hog roasts, we realise not all of your guests will feel the same way, which is why we strive to make our menus as diverse and crowd-pleasing as possible. As well as offering a varied selection of meats, such as beef, turkey, chicken and lamb, we have an extensive range of vegetarian options and seasonal side dishes, all freshly prepared at your venue whilst the meat is cooking. If you are hosting a corporate event or formal wedding reception, we can also offer more complex 3 course menus plus canapes, which are also freshly-made on site and served to your guests by our own front of house team. Whether you prefer a traditional hog roast, or a more elaborate meal which caters for different tastes, you can be assured that we have a menu that meets your needs.